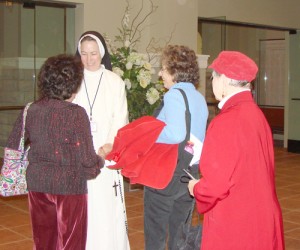 Once again the Women's Morning of Spirituality lived up to its' hype! More than 1200 women from all over the mid-south gathered at the Church of the Incarnation on Feb. 9 and were inspired, uplifted and renewed. The theme of the third annual Women's Morning of Spirituality was "Oh How He Loves Us." After working for a full year to orchestrate this event our team arrived at the church in the morning for prayer and a heartfelt blessing from Fr. Bill Parham. The energy and excitement from all the arriving women really triggered our joy and anticipation. There was dynamic teaching, powerful worship, delicious food, and engaging fellowship. If you missed this year's WMOS you will want to be sure to attend next year.
Bethany Paige beautifully sang "How He Loves Us" to bring us all into a spirit of calm and worship. Our first speaker was local eye-surgeon Dr. Cathy Schanzer. Cathy shared her testimony of how the Lord led her from childhood to fulfill her dream of being a medical missionary. Cathy and her husband Tom operate a clinic in Serabu, Sierra Leone, West Africa which they fund and visit twice a year. Since beginning this ministry she, with the Lord's help, has restored vision to thousands of patients. During a recent widespread cholera outbreak in Sierra Leone, her beloved people of Serabu were spared, thanks to the new water wells provided by Cathy's ministry. Cathy also shared humorous and heart-wrenching stories involving her life as mother to seven adopted children. Cathy demonstrated that life is not always pretty, but God is always faithful. At the end of her talk she shared how a simple comment about God's healing power led to the conversion of an atheist patient. God can use us to remind the world of how He loves us!
Our keynote speaker was delightful Sister Mary Brigid Burnham, OP. Sister taught that women are truly beautiful because we reveal something about God the Father. Like God, we are very protective of those we love, and she told us how we can bring them to His Sacred Heart. To remind us powerfully of how God longs to love us, Sister used the moving story of the birth of her nephew, Isaac, who was born with Down's syndrome. At the hospital after his birth, her family longed to embrace Isaac and she immediately thought of how God longs to pour out His love into our hearts.
God holds out His arms to embrace us in all our brokenness if only we would turn to Him. She challenged us to imagine what the world would be like if all 1200 of us truly lived like women of Faith. She said the Holy Spirit gives us the grace to make a wordless, image-less act of Faith, and the arrow of Faith shoots up and pierces God in Heaven. In turn, God pours out His love and this happens, it's like water flowing in a basin. It splashes and spills out over the sides, washing over those around us. The graces from our acts of Faith can actually spread out from us and change the world.
Father Bruce Cinquegrani exposed the Blessed Sacrament for worship and prepared us for the Sacrament of Reconciliation before Mass. Over 30 priests were present to hear confessions. Women returned to the sanctuary with peace and joy to attend Mass celebrated by Bishop Terry Steib, SVD. Bishop Steib preached beautifully about "remaining in God's love" by making an act of Faith every morning, saying, like the old spiritual, "Give me Jesus." At the conclusion of the morning, the Spirit of God was truly evident in the exuberance of 1200 women singing and rejoicing.